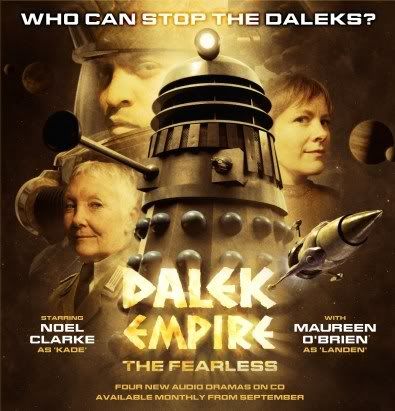 It's no secret that I am a massive fan of Big Finish's
Dalek Empire
series. Easily the strongest spin-off range they've produced to date and although, in my opinion, Series 3 was two episodes too long, it was still extremely well done and starred the future 10th Doctor himself, David Tennant!
So now we're onto Series 4. When Andrew and I interviewed Nick Briggs earlier in the year, he actually broke off from writing it to talk to us! This series goes back in time a bit to a point during the first series (I believe). Very little is known about what we can expect but, in a beautiful little coup, BF have snared the talents of
New Doctor Who
's Mickey Smith (Noel Clarke) to star as Kade in
Dalek Empire 4: The Fearless
. It's a four part story (as opposed to Series 3's six) and Part One is released this month.
On the basis of the previous three series I strongly urge you to
buy this
. It's excellent drama, well-acted and produced and if it maintains the high standards they've set themselves it should be cracking...
This hasn't appeared anywhere else yet (that I'm aware of) so I hope you like the cracking poster they've produced...